We love to hear about how our services have made a positive impact on our clients lives and home experience.
Please feel free to leave reviews at our pages online:
Our Favorite Testimonials are shared below!

Rebecca from Northampton
Beautiful Persian Isphan rug bought from Zephyr Rug

Melissa G.
Thank you so much for your advice and service for my two rugs.  We're so pleased with the cleaning and the repair.  Best wishes.
Seemi Piracha
Beautiful rugs bought from Zephyr Rugs!
Michelle K.
I bought this beautiful rug from Zephyr Rugs


Maja and Anthony
Here it is in its new home, thank you!

Elaine
The rug really looks beautiful! Thanks!
Jacqueline D.
I bought beautiful rugs from Zephyr Rugs for my entire home!
Athena m.
I'm so very happy with my beautiful new Mamlouk rug! Thank you so much for your kindness, patience, telling me so many fascinating stories about the history and design of the rugs and also having such exceptional taste in all of your rugs.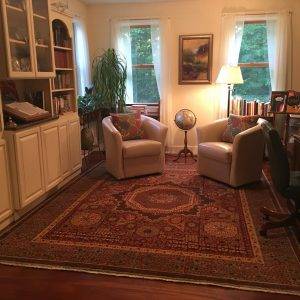 We are new owners of several rugs purchased at Zephyr Rugs. After making our selections and reflecting on the patience and expertise that the owners exhibited, we are thrilled with our choices. By far the best selection and knowledge of what they offer.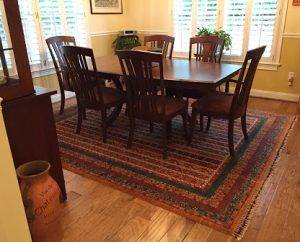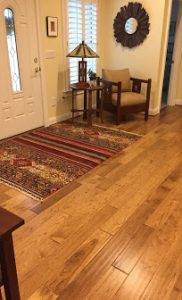 My husband and I came in yesterday and bought a rug. I was worried it might not go with our orange couch, but I was SO wrong!! We love it! A picture is attached. Thanks for great service!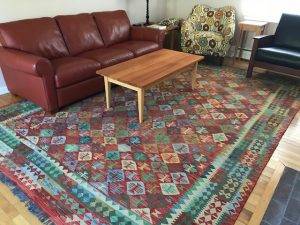 Holy cow! Look at that runner! Absolutely spectacular.Thanks so much for helping us select this hand made runner for our stairway. It's perfect.Your guidance and patience was most helpful. The selection and beauty of your rugs is breathtaking. We are looking around the house for more bare floor space!!Thank you also for suggesting Charles as our installer. Great guy and he did a super job.Best wishes for continued success,Mark and NoreenLongmeadow, MA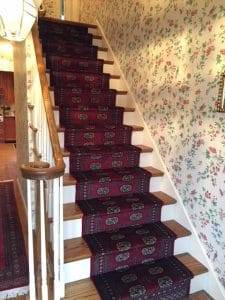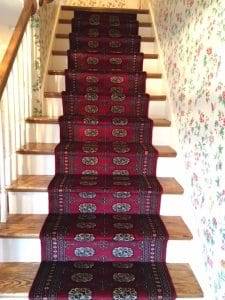 This beautiful kilim from Zephyr rugs enhanced the bay window in our living room perfectly.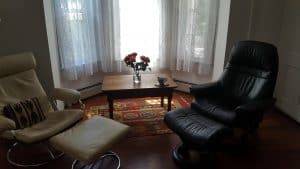 The folks at Zephyr Rugs told us that the rug we'd purchased would be like a painting, and they were right. We are thrilled to have this work of art as a centerpiece in our home. We also love that the rug was handwoven with natural dyes by families that the Zephyr owners have known for many years. It's nice to know that through Zephyr we're only one step removed from knowing the weavers ourselves.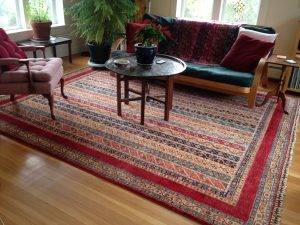 The owner could not be more gracious and helpful. No amount of time spent helping me was an imposition and her knowledge of the large inventory was extremely helpful. She inquired about the area where the rugs were needed and quickly saw what styles and colors were attractive. She sent me home to measure and when I returned we quickly selected a beautiful Gabbeh runner perfect for my hall.
I love it.
A beautiful rug for our dining room!